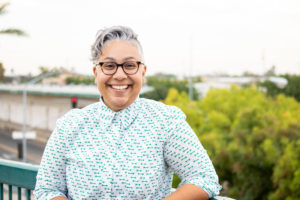 Patty grew up in Elizabeth, New Jersey where their family still resides today. Patty attended Rutgers University, Douglass College where they received their Bachelor's degree with a focus on Women & Gender Studies. Patricia then pursued a Master's Degree Teaching English to Speakers of Other Languages (ESOL) from the School for International Training located in Brattleboro, VT.
Patty's nonprofit leadership experience began as Public Education Coordinator at the New Jersey Coalition Against Sexual Assault (NJCASA) working to support survivors of sexual assault and educate those who partner with survivors statewide. During their time at NJCASA, they developed curriculum with a focus on primary prevention and bystander interventions of sexual violence in the LGBTQ and Latino community. They trained professionals, advocates, community groups, college students and high school students across the state of New Jersey on primary prevention and bystander interventions. They participated on statewide committees including the Governor's Council Against Sexual Violence, Education and Outreach Networking Group, and the Women of Color Caucus (WOCC) bringing together primary prevention professionals of color  focused on preventing sexual violence across the country.
Patricia then joined Asian Communities for Reproductive Justice in Oakland (now known as Forward Together) where they worked with SAFIRE, a young women's leadership development program, and developed a political education curriculum focused on young mothers and the criminal justice system.  They also supported a story collection project that shaped the Honoring Young Mama's Day, and the larger Strong Families Network, and built relationships with allied youth organizations.
Patty started their work at Youth Leadership Institute in 2011 as a Program Coordinator in Marin County working on projects related to school health, safety, and equity for LGBTQ youth and exploring the intersections of interfaith understanding, sexuality, and youth development. In this position, they worked in collaboration with the Spectrum LGBT Center of the North Bay. In July 2013, Patricia assumed a leadership role as the Senior Director of San Francisco Community Based Programs, visioning and directing programs and initiatives in San Francisco. They moved into the Chief People Officer role in July 2016, a newly formed position at YLI to directly oversee the Bay Area and Central Valley programmatic vision, delivery, implementation, and evaluation of programs. As CPO, Patty works towards programmatic success and also develops and maintains systems and policies to ensure a constantly improving workforce, evolving workplace, and sustainable organizational leadership. Their work demonstrates a commitment to social justice and the empowerment of youth and adults.
Patty sits on the Board of Directors for Brothers on the Rise, a dual direct service-systems change organization which responsibly empowers male youth to achieve individual success, develop healthy relationships, and contribute to a more just and equitable society. Patty is deeply committed to working with youth to create safer and healthier communities.