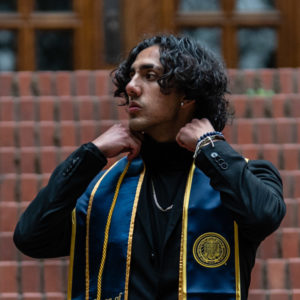 Daniel (They/He) was born and raised in Zamora, Michoacán. They immigrated to the United States when they were 11 years old with their parents and two brothers for a better education and life, leaving their family members and friends behind. They did not speak a single word of English. They settled down in Delhi (Yokut Territory) located in Stanislaus County, which became their new home.
Daniel graduated from the University of California, Berkeley with a B.A in Data Science. They found fulfillment in Data Science because one learns both practice and theory and it can be applied to a range of different fields because data is everywhere. Daniel is interested in using their data science skills to implement and back up policies to uplift the most marginalized communities. Daniel got involved with Youth Leadership Institute in Spring 2021 after coming in contact with We 'Ced reporters at a "Close the ICE Camps" event in Merced. They became Program Coordinator of We'Ced Youth Media, then two years later got involved with a new program, "You Are Sacred" (Y.A.S) to launch a suicide prevention media campaign where they became Interim Program Manager.
In their free time, Daniel loves going to the gym, traveling, being outdoors, playing soccer and hanging out with friends. He is humorous, outgoing and compassionate, and is passionate about health, politics, math, justice and technology.