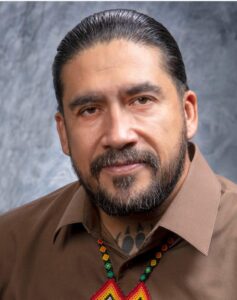 Jesse comes to yli with a ton of life experience. As a youth, Jesse was incarcerated and involved with the system until he was 18. As an adult, he was once again caught in the grips of incarceration.
Jesse has several years of experience in grassroots organizing in Merced County. As a Brown Beret, Jesse focused his work on the Anti-Police Brutality component of the Chicano Movement, and migrant children caged in ICE concentration camps. Jesse is passionate about his community and this passion has led him to run for public office a couple of times. He has sat on the School Board of the Weaver Union School District as a trustee and is currently serving as a city councilmember for the City of Merced.
Jesse is the Program Manager of the Merced office. He supports the Young Revolutionary Front, WeCed Youth Media, and is heavily involved in the Moving Forward program. He is currently leading programs, like Cactus Flower Art Project, inside the Merced County Juvenile Hall, as well as El Joven Noble circles and developing media content based on the youth's experiences.