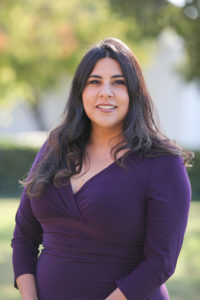 Yammilette "Yami" Rodriguez, originally from Redwood City, California moved to Dinuba as a young person.  She graduated with an Associate's Business degree from Reedley College, a Bachelors in Business Administration, Marketing from CSU, Fresno and has her Masters Degree in Leadership and Organizational Studies from Fresno Pacific University. Her thesis was in the area of Latino Attainment of Higher Education.  She has a Credential from Fuller Theological Seminary in Urban Youth work. Yami is currently a Doctoral Candidate in Public Policy from West Chester University.
In 2021, Yami was appointed by California Governor Gavin Newsom to the California State University Board of Trustees. This appointment has great significance to Yami, as her higher education experience was so meaningful. CSU Fresno gave Yami the opportunity to be engaged as a leader at a young age.  Fresno State opened pathways to attain her higher education.  One of many things Yami valued about CSU Fresno were the mentors, counselors and professors who supported her as adult allies.  She was involved as a student leader on campus and was President of the Hispanic Business Student Association (HBSA). 
Yami has been working in the nonprofit sector, policy advocacy and higher education for over 20 years, and with yli in the Central Valley since 2009.  Yami works to ensure that youth voice is at the table in community issues, especially in making positive policy and socially sustainable change in our communities. During Yami's tenure as Central Valley Director of Programs, she expanded the youth development program work and launched the Merced and Madera Offices.  Some of the examples of youth-led projects include underage drinking prevention, healthier corner stores, healthy advertising and healthy eating, access to parks, access to youth jobs and youth civic engagement campaigns in Fresno, Merced and Madera County.  Nationwide and statewide, she trains organizations and communities on how to build strong youth and adult partnerships to make communities healthier.  
Yami has received many recognitions including:
Central CA Hispanic Chamber of Commerce Latina Achievement Award-Community Service, 1997

Valley Public Television and Union Bank Hispanic Heritage Month Local Heroes Award, 2004

Association of Mexican American Educators, Educator of the Year, 2007

Marjaree Mason Center Top Ten Business/Professional Woman of the Year, 2008

Assemblymember Henry Perea, Hispanic Leader of the Year, 2012

Friday Night Live Statewide Youth Development Visionary Award, 2013

Girl Scouts Inspiring Women Award, 2016

State Center Community College District, Muro De Honor (Wall of Honor), 2017

$250,000 Irvine Statewide Leadership Award Recipient, 2019

Alumnus of the Year/Commencement Speaker, Reedley College, 2019

Alumnus of the Year, Fresno Pacific University, 2019
Yami has served in the community and on Board of Directors in numerous ways:
Vesper Society Foundation

, funding CA work in health and justice 2019-present

Hispanas Organized for Political Equality (HOPE), Board Member, 2013-2019 Advisory Board Member 2019 – Present

Central Valley Latino Leaders Academy, Founding Board Member, 2018-present

MCC National Advocacy Council, 2017-2019

Irvine New Leaders Network, 2015 – 2018

California Friday Night Live Statewide Leadership Council 2011 – 2018

My Sister's Closet Career Development Ministry, Founding Director/Board Member, 2008-2015

Fresno Pacific University, Board of Trustees, 2010 – 2014

Former Mayor Ashley Swearingin, Community Advisory Panel, 2009-2015

Go Fresno Public Schools Leadership Council, 2017 – 2018

Central California Latina Network (now VALLE), Founding Board Member, 2004-2010

Fresno Compact, Business and Higher Educations Partners – Committee Member, 2002-09 

ABC 30 Advisory Council, 2009-2011

Leadership Fresno Class 24, 2008
Yami and her husband Jaime Rodriguez have two beautiful little daughters named Lizette and Juliette.