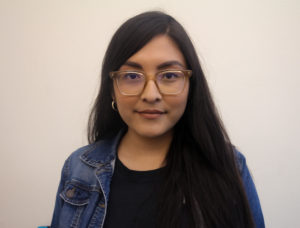 Olivia Rodriguez Mendez (she/her/ella) is from Thermal, California, an unincorporated community in the Eastern Coachella Valley (ECV). Olivia is passionate about working alongside other community members in local efforts that center community, art and joy.
Olivia graduated from UC Berkeley with a major in Integrative Biology. Upon graduation, Olivia returned to the ECV where she joined Coachella Unincorporated as a youth journalist in 2015. Throughout her time in Coachella Unincorporated, Olivia had the opportunity to work alongside other local filmmakers and artists to co-produce and write an award-winning film called, Estamos Aqui: A Community Documentary. Olivia then pursued a Masters in Public Health with an emphasis in Global Health from Loma Linda University.
Currently, Olivia is the Program Manager in the Eastern Coachella Valley office, where she supports the youth of the ECV.
Olivia lives in the Coachella Valley with her partner, Bryan and their baby Vicente. Olivia loves spending time with her family, going on walks and writing stories for baby Vicente.