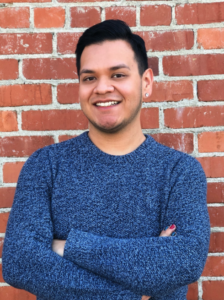 Daniel is a Central Valley native originally living in the rural community of Easton on the outskirts of Fresno. They are passionate about youth-driven policy change and decision-making, and have a strong commitment to local issues. They have done advocacy work around LGBTQ+ rights, food disparities for low-income families, and ensuring ample funding was invested in Southwest Fresno. Daniel is passionate about policy and served as a 2017 Equality California Institute Fellow where they interned at the California State Assembly. Additionally, Daniel interned in former U.S. Senator Kamala Harris' District Office.
Daniel is a proud alum of Fresno State with a Bachelor's Degree in Sociology, a minor in Philanthropic Community-Based Leadership, and a certificate in Applied Sociological Research. They completed the [email protected] State program and are a former Bulldog Pride Fund Harvey Milk Humanics Hope Award Scholar.
In their free time, Daniel listens to countless hours of pop music, attends & performs in drag shows, and loves to spend time with family and friends by engaging in stimulating discourse.