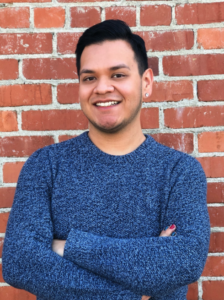 Daniel is a Central Valley native originally living in the rural community of Easton on the outskirts of Fresno. They are passionate about youth-driven policy change and decision-making, and have a strong commitment to local issues. Daniel first joined yli working in Friday Night Live in rural Fresno County communities. They have successfully implemented merchant education and positive social norms campaigns around underage alcohol and tobacco prevention in Reedley, Selma, and Orange Cove. Daniel joined The kNOw Youth Media team in 2022. They have worked closely with queer-identifying youth and staff to create community spaces for LGBTQ+ youth in Fresno yli programs.
Daniel is a proud alum of Fresno State with a Bachelor's Degree in Sociology, a minor in Philanthropic Community-Based Leadership, and a certificate in Applied Sociological Research. They completed the Humanics@Fresno State program and are a former Bulldog Pride Fund Harvey Milk Humanics Hope Award Scholar.
On weekends, you can find Daniel at local drag shows alongside friends, watching horror movies, or listening to countless hours of pop music.